Ethiopian Airlines: An African Success
---
How  Ethiopian Airlines Conquered Africa's Skies
Ethiopian airlines has come to position itself as an outlier in Africa's aviation industry. In a competitive industry which has seen its share of corporate failures, Ethiopian, as driven consistent long term growth over it 70 year old history to become the continent's fastest growing and most profitable airline. What makes the company's success even more remarkable is that it is a state owned company-many of w h i c h h a v e b e e n n o t e d f o r t h e i r mismanagement and lack of efficiency. within the last decade, Ethiopian has seen spectacular growth on the back of its Vision 2010 strategic road map which sought to boost revenues to $1 billion from $400 million in 2005. The company hit the $1 billion mark reaching revenues of $1.3 billion by 2010. Ethiopian has recast its ambition further with the unveiling of the Vision 2025 strategy through which it seeks to become Africa's leading aviation group with revenues of over $billion. As a result of the strategy, the airline hopes to  build a network of 90 international destinations. Ethiopian currently operates 200 flights daily connecting travellers to major global centres of of commerce and trade on five continents. The airline currently hauls of over seven million passengers annually.
SUCCESS FACTORS
Central to the growth of the airline has been its investment in technology and infrastructure. In the late 2000s, Ethiopian launched an aggressive fleet modernization and expansion campaign involving the purchase of over 30 aircraft. Ethiopian was one of the first African carriers to invest in the Boeing 787 dream liners. The purchase was a landmark acquisition as the aircraft have a 14,000 km range which gives the airline the ability to conduct long range, non stop flights to any destination around the world. Ethiopian now has a fleet of over 70 aircraft, which includes state of the art aircraft such as bombardier's Q440's, Airbus A-350 Boeing B777 and the Dreamliner 787  Notably too, the company has a strong focus on cost management-seeking to build out its cost structure as one of its competitive advantages. Frugality is a key tenet that the company's CEO, Tewolde Gebremariam is an evangelist of. From keeping a modest corporate headquarters to keeping an eye on low staffing costs, Ethiopian is noted for its bid to keep operating expenses low in what it recognises as a low margin, capital intensive, and hyper competitive business. Also, even though the airline is 100% state owned, government has provided the airline with commercial autonomy allowing the company to operate with as little government interference as possible.
The running of the airline is left to a competent  management team that is held accountable for the success of the company. This has also seen the airline seek financing to expand growth with international financiers beyond just the Ethiopian government. In addition, Ethiopian's success can also be attributed to ambitious, clear, and strategic government policy. With the government's aim to position Addis Ababa as a hub for manufacturing and trade the establishment of a strong and competitive airline has been seen as critical. Further, with the strengthening of relations between Addis Ababa and Asia, a successful national airline will be essential to forging the country's fast changing economic relations its Asian trading partners.
The company has also been able to tap changes in the macro economy to fuel its growth. Specifically, Ethiopian has been able to tap its location in one of the busiest growth corridors-between the atlantic and into the Asia covering countries such as Brazil, China and India. Increased trade volumes between Africa and China, for instance, have resulted in Ethiopian increasing its market share and revenues in the cargo areas. Ethiopian's management team have been able to read, interpret and exploit the opportunities being presented by the changing market. Importantly too, Africa's economies have been on a growth path in the last decades boosting opportunities for from air traffic and cargo volumes.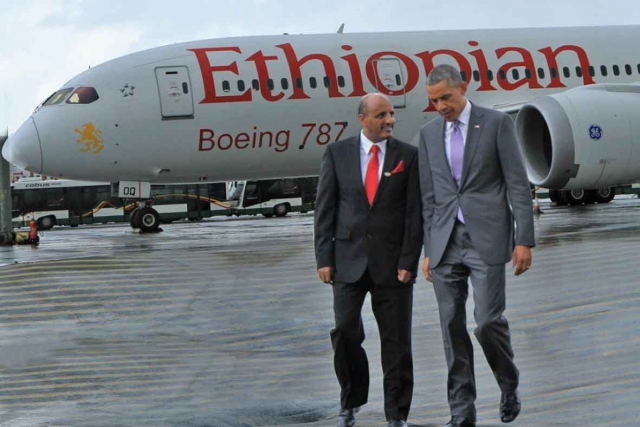 The Long Term Play
The management team at Ethiopian Airlines fundamentally believe in the necessity of long term planning. This has been evinced by consistent formulation of strategic road maps starting with the Vision 2010 and recently the Vision 2025. The Vision 2010 was an important strategic inflexion point which attempted a major repositioning of the airline and set out audacious goals of expanding the company's network and revenue base. Its Vision 2025 road map now seeks to position the company as the continent's leading aviation group with strategic goals which include, establishing regional hubs around the continent, expanding the fleet size to 120, growing the passenger count to over 18 million, and increasing the number of freighter destinations to over 35 globally.
The Africa Strategy
Ethiopian is also setting its eyes on the Africa market, seeking opportunities to expand its reach and develop a thriving intra-African network. The company recently purchased a 40% stake in Togo based ASKY Airlines, a west African regional carrier, in order to consolidate its regional presence in West Africa. It further went on to partner with the Malawian government to establish an airline following the liquidation of the Malawi's national airline. Ethiopian seeks to establish hubs in Togo, Malawi, and DRC for its West, Southern, and Central African regions. For African managers and business leaders looking for an example of sustained management success, Ethiopian Airlines maybe a good place to start.